ORION Reederei
MASK ON – SEAFARERS OFF!
Dear Visitor,

We welcome you to our site. You may have come across our company by having seen our fine motor vessel VELSHEDA dutifully wearing a face mask when entering the port of Puerto Drummond.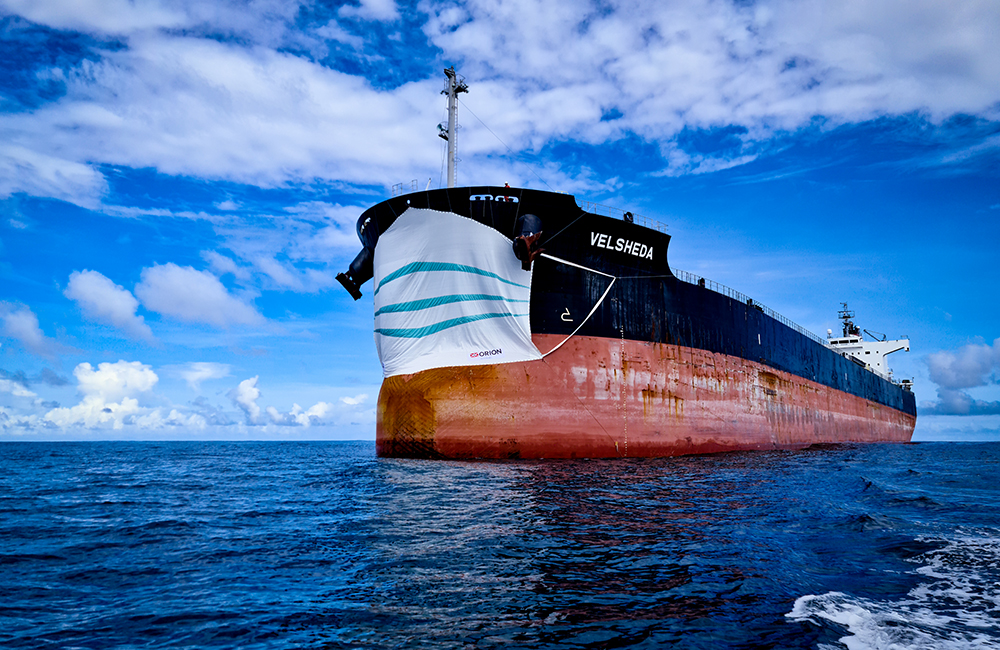 Now that we have your attention, would you mind hearing the case of our seafarers – and being their advocate?
Due to the Covid-19 pandemic, a wide array of travel bans and limits are now in effect around the world. These include restrictions on repatriation, port access, and cargo vessel embarkation and disembarkation. Tens of thousands of seafarers have been trapped by these rules, unable to leave their ships or travel home from distant ports.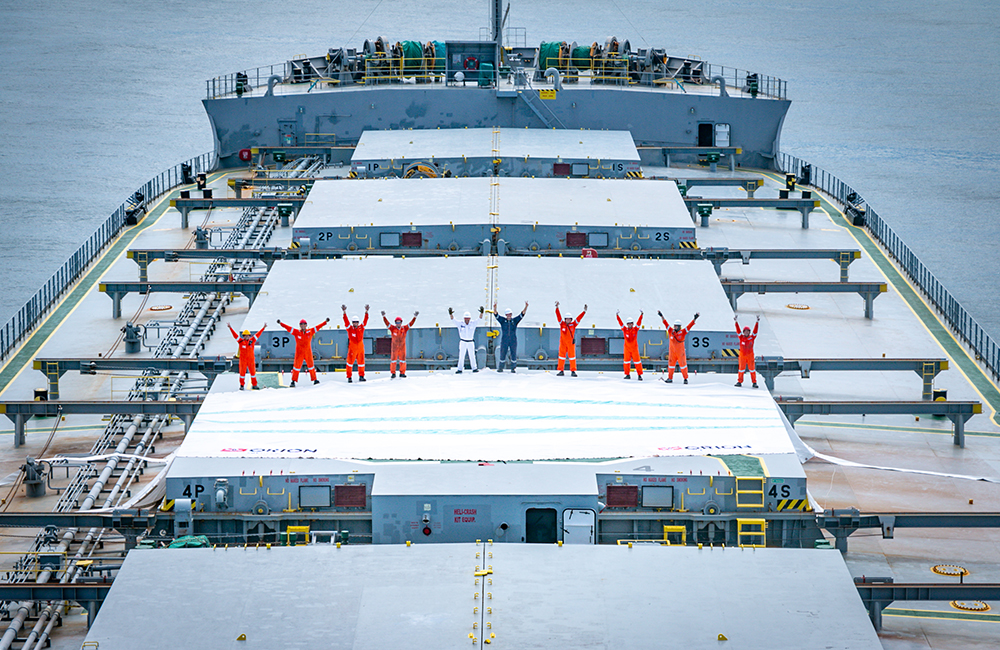 Onboard, many seafarers find themselves locked into extended contracts, unable to return to their families or even to take shore leave at ports. They often face a series of logistically and financially impossible unpaid quarantines – and in some cases, they have been forced to stay on their vessels for over 14 months! Conversely, other maritime personnel are stranded ashore, facing months of lost income as disruptions in crew changeovers have left them idle.

With Orion's face-mask-wearing Panamax, we want to raise awareness of the struggles that our world's key workers at sea are facing. Our aim is to send a strong message to politicians, immigration officers, harbor masters, government ministers, mayors and other decision-makers around the globe:

Please help our seafarers by allowing responsible crew changes to take place!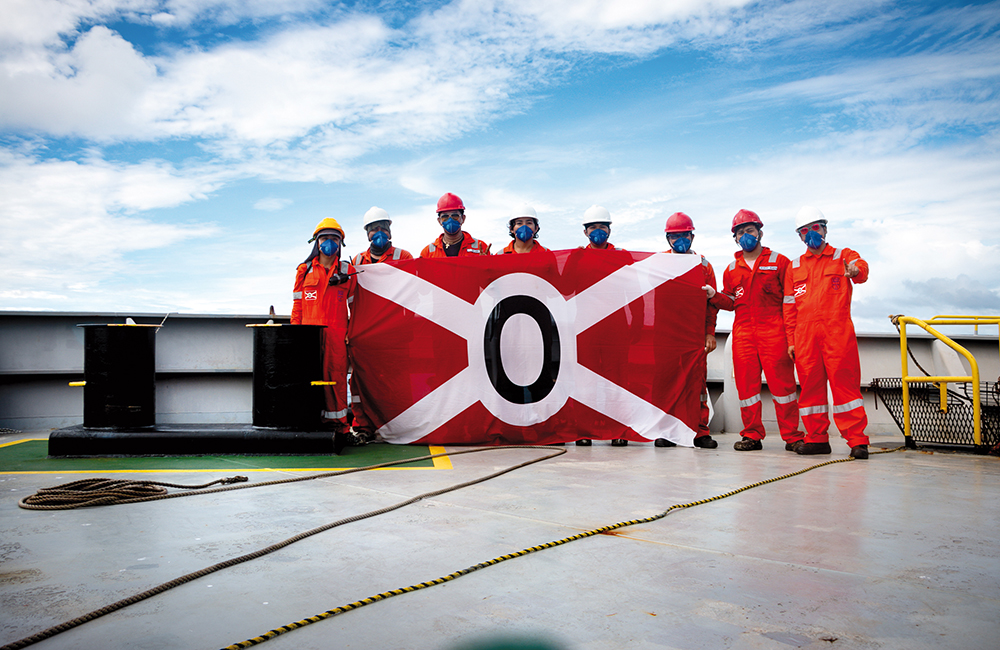 The situation of seagoing personnel has improved since the initial coronavirus lockdowns, and a great deal of progress has been made. However, the welfare of seafarers – and of this strategically important economic sector – is still at stake. Covid-19 shutdowns and slowdowns have had a far-reaching impact on international shipping. Seafarers must be recognized as key workers who maintain global economic activity and deliver essential commodities.

With our ship-sized mask, we want to emphasize that we'll do whatever it takes to comply with - and even surpass – today's elevated health and sanitation requirements. Orion has always been proud of its supportive work environment, expert maintenance, strong analytics, and proactive attitude. Our everyday vigilance has only deepened during this coronavirus crisis. Given the uncertainties that our industry has to cope with, however, a mandatory quarantine of two weeks or longer, plus equally long port registration deadlines, will never be feasible.


International maritime logistics still lacks an adequate coronavirus response. Designating seafarers as key workers is a critical step in enabling safe, stable crew changes. It became the 2020 theme of the annual Day of the Seafarer (June 25) and now continues on as the social media hashtag campaign #SeafarersAreKeyWorkers.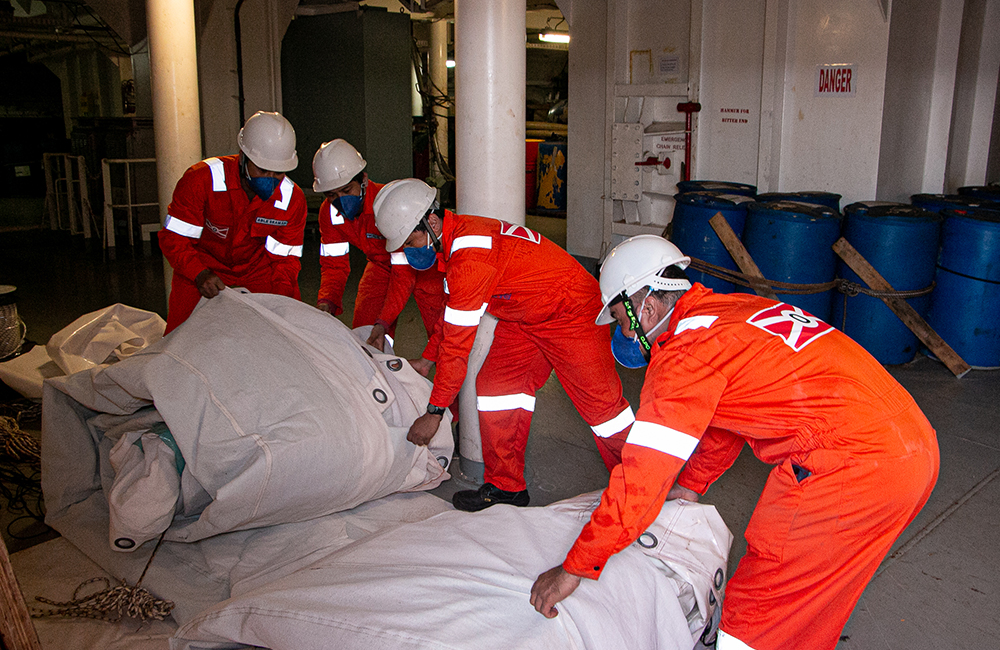 P.S. – And why the massive mask? Well, it was a spontaneous idea that came up during one of our weekly meetings in the crew change task force team. We were in the midst of discussing additional sanitary measures during port stays, when one colleague suggested that the ships should wear masks as well: to make it known at first sight, even from afar, that we comply with health and safety rules and take coronavirus precautions seriously.

Following Orion's 'No sooner said than done!' motto, it didn't take long until we partnered with HAGENDORF PLANEN of Hamburg. Their team of tarpaulin specialists immediately liked the idea and did a great job helping us create what turned out to be our ship's 200-kilogram and 300-square-meter face mask.
Datenübermittlung an Vimeo akzeptieren und
Video jetzt abspielen
*) Mehr in unserer Datenschutzerklärung.